Tanika Apaloo
Position title: Assistant Director, UW South Madison Partnership
Email: tanika.apaloo@wisc.edu
Phone: 608-265-4940
Address:
2238 South Park St.
Madison, WI 53713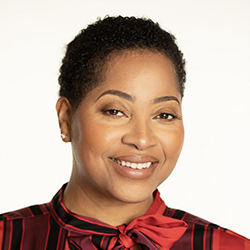 Tanika Apaloo serves as the Assistant Director for the UW South Madison Partnership office while working closely with the Director of Community Relations.
In this role, Mrs. Apaloo connects with people and organizations across the UW–Madison campus and the Madison community, with a focus on South Madison, while promoting stable and productive relationships between the university and community.
Prior to joining the South Madison Partnership, Tanika worked with the Wisconsin Historical Society as a Community Engagement & Diversity Liaison and Community Programs Manager. Apaloo received her bachelor's degree from the University of Wisconsin-Madison, double majoring in Legal Studies & Sociology, with certificates in Criminal Justice and African American Studies.
Apaloo strives to expand and ensure access to programs, facilities, and educational services to diverse audiences.