March 14, 2023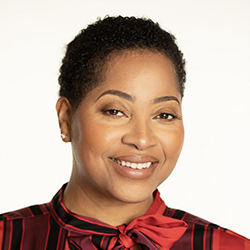 This semester, the University of Wisconsin–Madison Community Relations office welcomed Tanika Apaloo as the new assistant director of the UW South Madison Partnership (UWSMP). In her role, Apaloo will oversee day-to-day operations of the UWSMP and promote stable and productive relationships between the university and community in south Madison and beyond.
Prior to joining the UW–Madison Community Relations team, Apaloo worked with the Wisconsin Historical Society as a community engagement and diversity liaison and community programs manager. She received her bachelor's degree from the University of Wisconsin–Madison, double majoring in legal studies and sociology, with certificates in criminal justice and African American studies. Apaloo has been an active participant in the Madison area community for the past 20 years and currently serves on the Big Brothers Big Sisters of Dane County Board of Directors and on the Foundation Board of Directors for Agrace.
"We are thrilled to welcome Tanika to the Community Relations team," says Brenda González, Director of Community Relations for UW–Madison. "She brings a wealth of knowledge and experience engaging community members across diverse backgrounds and experiences. She will help us continue to center community and put the Wisconsin Idea into action."
Apaloo succeeds Merry Farrier-Babanovski, who helped build a strong base and deepened the community connections that pushed for the recent expansion of the UWSMP space. Farrier-Babanovski served as the lead and primary point of contact for the UWSMP for almost seven years.
"I'm excited to build on the great relationships UWSMP has fostered over the years and find new opportunities to engage the wider Madison community in our mission," shares Apaloo. "This team is well-poised to build quality relationships that foster an environment of belonging, access, and awareness of both community and university resources."
The UW South Madison Partnership is a UW–Madison initiative designed to meet the needs of the South Madison community and foster mutually beneficial relationships. The UWSMP partners with 22 community organizations and works with campus partners across eight schools and colleges, five divisions and two institutes, in addition to the Division of Extension. The UWSMP is an initiative of UW–Madison Community Relations office, which serves as the primary liaison between the university and Madison community. Special thanks and credit go to Everett Mitchell and Leslie Orrantia for laying the groundwork for the UW South Madison Partnership.